I think everyone in the United States knew who Kobe Bryant was; even if you aren't a basketball fan, you've heard his name somehow. When a cultural icon like that passes away – especially at such a young age – it causes us all to pause and reflect. While we strive to make sense of something that cannot be made sense of, the words and actions of someone when they were alive can become more powerful, especially those words spoken and actions taken towards the end of their life. Here are some things Kobe Bryant has said and done that have uplifted me; perhaps you can find something that helps you too: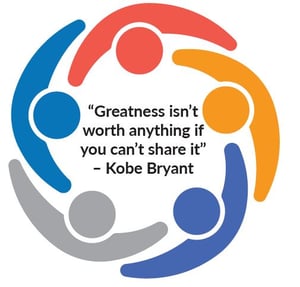 He found a work life balance that gave him more happiness. Fellow basketball star Lebron James commented about how, "these last three years, out of all the success (Kobe) had – five rings, multiple MVPs, an All-Star game MVP of this league, first-team everything, all-life, all-world, all-basketball, felt like these last three years was the happiest I've seen him...being able to just be with his daughters, be with his family." It is interesting to note that in a CBS Sports' 2015 documentary, "Kobe Bryant's Muse" Kobe said: "We all can be masters at our craft, but you have to make a choice. What I mean by that is, there are inherent sacrifices that come along with that. Family time, hanging out with friends, being a great friend, being a great son, nephew, whatever the case may be. There are sacrifices that come along with making that decision." Yet after his NBA career, in his second career running his own media company, Granity Studios, he was finding a way to have more balance. From the article based on his last interview with USA Today it was said, "Bryant still often reports to his office at 8 a.m. After leaving at 2 p.m. to pick up his daughters from school, Bryant returns around 3:30 p.m. for more work" and that "Bryant rarely watched NBA games after he retired. He only did so if a player asked him to review film. Otherwise, he spent most of his time on his projects or with his family."
He was writing stories to help the next generation reach their full potential: In the same USA Today interview he was quoted as saying, "You got to do what you love to do. I love telling stories." On his Twitter account Kobe described his most recent book released with Granity Studios, "Epoca: The Tree of Ecrof", as a novel "filled with lessons advocating the importance of overcoming adversity, rejecting stereotypes, channeling emotions and displaying self-confidence".
He was focused on uplifting others & sharing success: In his last conversation with Kobe, Bill Plaschke, the LA Times sports columnist that covered Kobe for his entire career, asked Kobe how he felt about LeBron James passing him on the all-time scoring list. Plaschke commented, "in our 20-minute conversation, he showed a side of Kobe that I had not seen before. The edge was gone. The arms were open. He urged acceptance of LeBron. He preached calm for Lakers fans. He said greatness wasn't worth anything if you couldn't share it."