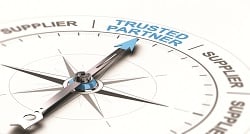 Nothing is more frustrating when working from home than a bad internet connection. And as an IT leader, nothing is more frustrating than colleagues blaming you for their bad internet! One of our trusted partners, VNET Solutions, has been helping their clients save the day with executives using the following solutions:
#1 :
Providing redundancy with a wireless router loaded with multiple SIM cards.
Depending on where you are in the country, one carrier may be more reliable than another. But you don't want to have to rely on your executives determining that for you. Shipping a wireless router with multiple SIM cards allows the ISP you are working with to choose the optimal connection.
#2 : Pulling fiber to residential homes. If your executives need business-grade speeds and service backed by a strong SLA to their home, you may want to explore getting a dedicated fiber-line to their house. Having partnerships with nearly all the top ISPs around the globe, VNET Solutions can help you determine what is possible and get you the best deal.
Contact us for an introduction to VNET Solutions to explore these options and more for your team!